My Books
Comanche Indians, Inuit Indians, Lakota Indians, Seminole Indians, Shawnee Indians, Iroquois Indians, and Navajo Indians are available in hardcover and paperback.

Each of these 32 page fully illustrated books covers the tribe's culture, history, games, clothing, traditional foods, houses, and religious beliefs. Childrens' role within each tribe is emphasized. Readers learn how each tribe is keeping their culture alive today.

A Native American expert from each tribe worked with the author to create a true and repectful series for young readers.
Newly re-published by Pelican Publishing Compnay, The Jade Stone will be available September 2005. Illustrated by Ju-Hong Chen, this prize winning book holds a message about being true to yourself.
Second, third and fourth graders will enjoy reading about these tribes in the past and present. The books are fully illustrated with paintings by Native American artisits and with period photographs. Clear and accessible books about these important cultures. Expert readers from each tribe have authenticated text and art.

32 pages, plus glossary, reading list and index. Heinemann Library, 2003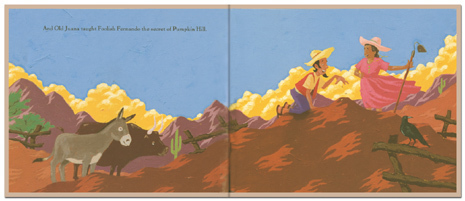 Award-winning artist Joe Cepeda's saucy, bright paintings are perfect for this funny, rhythmic tale spiced with Spanish!

Includes a recipe for pumpkin soup!

HarperCollins, 1998
Chan Lo is a humble stone carver who is given a perfect piece of green and white jade by the Great Emporer of All China. Is there a dragon in the stone, as the Emperor demands? What does Chan Lo hear the stone say? What does it want to be? And is he brave enough to defy the Emperor?

"A wonderful read aloud, with great sound effects...a tale of artisit integrity told with with artful simplicity that it'll be accessible to young children." Kirkus Reviews 1992

Holiday House, 1992

Named among best picture books of 1992 by the San Francisco Chronicle and Book Links. Starred reviews.
Photo-essay, fully illustrated

The Palo Alto Children's Theater is the oldest theater in the United States where kids do all the acting, crew work, costume building, set building, lights and every other aspect of play-making.

Onstage/Backstage, co-written with JoAnne Wetzel, is a fully-illustrated photo essay which follows 10-year-old Chessa Geisler in a production of Kipling's Just So Stories.

Carolrhoda Books, 1987
What is the connection between the Lakota and the buffalo? How was the Declaration of Independence
influenced by the great Iroquois League?

Native American history and culture, both past and present, are brought to life in this elementary-grade series.

Heinemann Library,2003